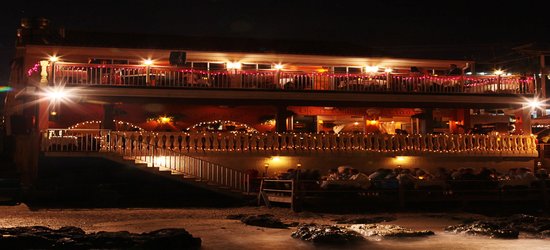 Casanova's wine list and service are equally extraordinary. Our wines have been carefully selected to cater to different tastes! Ranging from classic and rustic to modern and vibrant, a Sommelier is always available to assist you with your wine selection.

Casanova's boasts exquisite waterfront views, sumptuous Italian and Seafood cuisine, and a dining experience that is both memorable and unique.

We have an intimate Wine Cellar, perfect for an intimate dinner for up to 14 guests for a sit down dinner, or more guests for a cocktail party. The main restaurant can seat a variety of different sized groups for either indoor air-conditioned dining, the terrace for outdoor dining or on the lower deck above the water. For larger groups, the upstairs accommodates 60 indoors or 70 outdoors for a sit down dinner, or 100 in each area for a cocktail party.

For groups larger than 30 guests, a set menu is recommended, as it aids in the fluidity of the evening, as well as helping to control costs.

Please refer to our regular menus, and have a look at our wine list as well. Our wines are subject to availability, and prices are subject to change.
For an event in our upstairs private dining area, you have the option of having your own private bar available for the exclusive use of your guests. You may select a full open bar, all on one tab, or a limited bar, which offers your guests a variety of our house wines, beer, well drinks, and non-alcoholic beverages. Another option is the cash bar, a full bar with a pricing menu so your guests can indulge their refreshment needs!
The upstairs room features a separate music system, you are welcome to bring in an ipod/ipad, or a laptop with your musical selection to entertain your guests. You also have the otption to arrange for a dj or live music to entertain your guests. We provide the classic white table cloth and the tables with the traditional implements, in addition to candles and decor accents. Anything other than that, you are most welcome to provide.